The best protection against dirt in the Air-Intake
An air filter protects your engine from premature wear. Soot, pollen, fine dust and other particles in the ambient air do not enter the combustion chamber of the engine thanks to an intact air filter. This prevents damage through effective filtration of the intake air.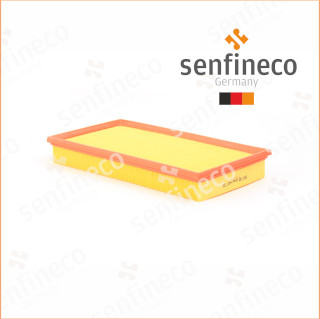 Senfineco Air filters have the following advantages:
Functional reliability during the entire service interval
highest degree of dirt separation
low flow resistance
permanent 100 % tightness
special paper embossing for high fold stability
Water resistance thanks to special impregnation
optimum protection for the engine, the air mass sensor and other sensors
Thanks to german quality in production, design and process control, Senfineco air filters are up to the tough requirements of current vehicles. Efficient and reliable filtration of the intake air ensures the optimal air-fuel mixture - an elementary prerequisite for consistent engine performance.
Naturally water is the worst enemy of all vehicle engines but also filters need to cope with water. The advanced water-unsolveable air filter media impregnation protects the filter from water and humidity. Due this technology paper integrity, performance and structural stiffness can be ensured over the enitre livetime of the filter.
Excellent fit guarenteed
Trapezoidal shape, oval-conical or with stepped bellows - Senfineco offers a huge variety of products with hundreds of designs that meet the OEM requirements in all installation spaces.
Air filters are exposed to temperature endurance loads of up to 80 °C. This leads to aging and embrittlement of the filter paper. Cleaning the air filter with compressed air can cause the filter paper to tear, resulting in a loss of filtration performance. Small cracks in the filter paper are often not visible to the naked eye. Engine damage due to reduced filtration performance can no longer be ruled out.
To ensure that the engine does not run out of clean air, the filter must be replaced at regular intervals. The service interval is provided by the vehicle manufacturer and should be done on an regular basis.
Our online catalogue offers the right air filter for almost every application (car, truck).