The best protection for engine and injectors

Fuel filters remove both dirt particles and water from the fuel. Senfineco fuel filters are adapted to the high requirements of sensitive injection units as well as to the specific properties of alternative fuels such as biodiesel.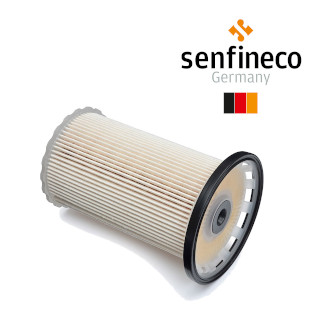 Senfineco Fuel filters have the following advantages:
Functional reliability during the entire service interval
Filtration down to 1µm particles

maximum separation efficiency

high dirt capasity for a long service life

low flow resistance
easy to fit and permanent 100 % tightness
special material to seperate water from diesel
reliably protects the injectors
By using extremely fine filter media, the fuel is reliably removed from unwanted dirt particles. Our filters protect injection systems against wear and corrosion and thus contribute to the operational safety of the entire engine. An effect that also has a positive effect on maintenance costs.
Thanks to german quality in production, design and process control, Senfineco filters are up to the tough requirements of current vehicles. Efficient and reliable filtration ensures the optimal air-fuel mixture - an elementary prerequisite for consistent engine performance.
The injectors are extremely sensitive and water in the fuel harms them immensely. With poor fuel quality and high water content, water cavitation leads to irreversible, mechanical destruction of the injectors after 15,000 km. Fuel-Water Separator Paper prevents this effect and leads to integrity, performance and ensures a long life time of your Injectors and Engine.
Excellent fit guarenteed
Our Filters are designed for modern high-performance oils and master even the most demanding technical challenges confidently. Since the fields of application of fuel filters and the requirements placed on them are different, there are Senfineco fuel filters in various designs.
spin-on filters for diesel mainly
inline filters for gasoline vehicles
element filter are the ecological solution for the future
prefilters for mashinery and trucks
To ensure that the engine does not run out of clean fuel, the filter must be replaced at regular intervals. The service interval is provided by the vehicle manufacturer and should be done on an regular basis.
Our online catalogue offers the right fuel filter for almost every application (car, truck).