The best engine protection

More and more power, less and less consumption, the high demands of modern engines also demand everything from the oil filter. Only clean engine oil can ensure a permanently constant engine performance. Senfineco oil filters master even the most demanding technical challenges with ease.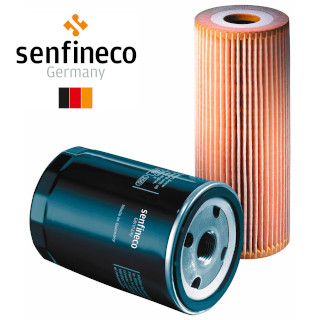 Senfineco Oil filters have the following advantages:
Functional reliability during the entire service interval

maximum separation efficiency

low flow resistance
easy to fit and permanent 100 % tightness
high quality extruded gasket with shore hardness 75
special paper embossing for high fold stability
durable corrosion protected body
optimum protection for the engine
Anti-Drain valve and/or Bypass valve according to OEM
The oil circuit is of central importance, because only clean engine oil can ensure a smooth consistent engine performance. If the circulating oil is not permanently purged from dirt particles and combustion residues, protection against wear is no longer guaranteed. In the worst case even engine failure is possible. Thanks to german quality in production, design and process control, Senfineco filters are up to the tough requirements of current vehicles.
Naturally water is the worst enemy of all vehicle engines but also filters need to cope with water. While Oil is burned the oil absorbs increasing ammounts of Water. The advanced water-unsolveable filter media impregnation protects the filter from water and humidity. Due this technology paper integrity, performance and structural stiffness can be ensured over the enitre livetime of the filter.
Excellent fit guarenteed
Our Filters are designed for modern high-performance oils and master even the most demanding technical challenges confidently. Since the fields of application of oil filters and the requirements placed on them are different, there are Senfineco oil filters in various designs.
The great Senfineco know-how is particularly evident in the details:
Anti-drain valve:
Ensures that filters and oil ducts do not run idle when the engine is off and that a quick oil supply is ensured when starting the engine.
Bypass valve:
Ensures oil supply during cold start phases and when the replacement interval is significantly exceeded if the oil filter is very dirty.
Filtration Material:
Thanks to outstanding dirt holding capacity and high material resistance each filter is perfectly matched to the respective vehicle model
Especially when driving in challenging conditions - such as uphill, with heavy load, with diesel fuel and a downsized engine - the frictions inside the engine leeds to high engine oil degeneration and engine abrasion formation. Therefore oil filters are exposed to temperature endurance loads of up to 135°C. This leads to aging and embrittlement of the filter paper. To ensure that the engine does not run out of clean oil the oil filter must be replaced at regular intervals. The service interval is provided by the vehicle manufacturer and should be done on an regular basis.
Our online catalogue offers the right oil filter for almost every application (car, truck).