Company

German manufacturing company Service Car Technology Vertriebs GmbH was founded in 2009. We are leader in the development of production processes and manufacturing of automotive components, additives and lubricants. Our engineers excel at solving complex problems and arriving at optimum solutions, which take into account modes of vehicle operation in today's driving conditions as well as the environment.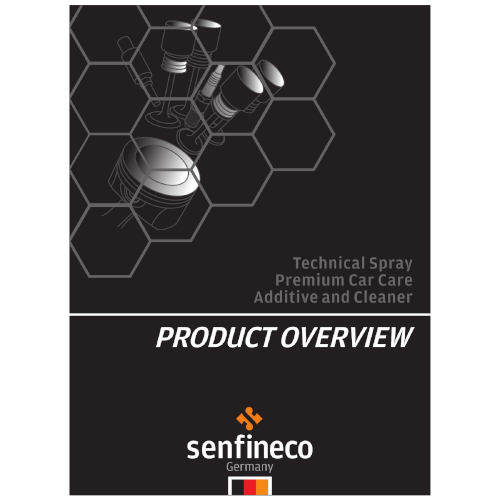 2019 Product Overview
The anual update of our product overview catalogue is available now. Here you find our products latest technologies, descpribtions and fields of applications. You don't wanna miss this.
LEARN MORE
Research:
Research centers and manufacturing enterprises of Service Car Technology Vertriebs GmbH are located in the countries of Western Europe, Eastern Europe, North and Latin America as well as Central Asia. In the course of the manufacturing process of products under trade mark «Senfineco-Germany», each technological and manufacturing step has to passes numerous tests in accordance with a number of technical parameters. The advanced production quality control system utilized by «Senfineco-Germany» and a high level of automatisation of all manufacturing cycles provide low tolerances and stable operational characteristics during all product life cycles. Advanced, highly automated equipment and technologies from leading international companies are used at all stages of production.
Quality:
A distinctive feature of all «Senfineco-Germany» products and formulations is the extensive development, improvement and quality control made in Germany, which guarantees you absolute efficiency, performance and safety in all application fields. Following the trend of development, vehicle engines and systems have become even more compact and more power efficient. In the same time it has become more time-consuming and costly to renew these systems completely, such as: fuel injection system, ignition, exhaust system and air conditioning systems. Thus, it has become even more necessary to maintain and clean these components more carefully than before to avoid costly repairs. For your convenience we take great effort and special attention to provide the best possible products and the maximum possible description and accuracy of all information on the website. Your suggestions and feedback are highly appreciated, carefully reviewed and used for joint business development.
YOUR SUCCESS IS OUR MISSION
---
Senfineco Top-Sellers
---