Clear view - safe journey

Windscreen wipers are an important part of the safety concept of the vehicle. In cold and rainy weather and bad lighting conditions the driver is significantly more stressed, so a streak and noise-free windscreen cleaning is essential. It reduces the risk of accidents - much more than is widely expected.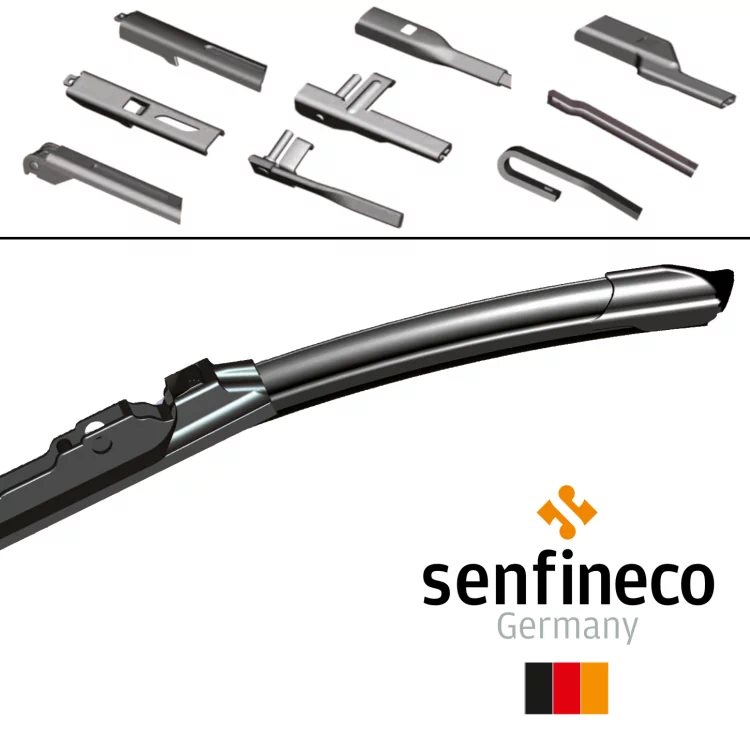 Senfineco AeroDyn Wiper Bladess have the following advantages:
constantant pressure distribustion over the entire blade - for streak free wiping
black carbon coated rubber - for smooth wiping
UV-Stabalized rubber/ housing - for a long service life
aerodynamic design - ideal pressure distribution and wipping results during high speeds

corrosion protected
high quality spring steal
perfect fit thanks to carefully designed connectors
The wipping rubber as well as the blade spring build the core of the wiper performance. High quality spring steal is used for all wipers to garantee a streak free wipping result. The rubber material has to meet the most harsh quality specifications, so it can withstand UV-rays, frost and alternating pressure conditions. Premium wipping rubber with high natural rubber contant and graphite coating ensure a long, headage-free service life.

Excellent fit guarenteed
Our wiper blades are designed for modern high-performance vehicles to master the most demanding technical challenges confidently. Since the fields of application of wiper blades and the requirements placed on them are different, there are Senfineco wiper blades in various designs.
AeroDyn flat wiper blades with hook type connector - the classic connection type for many cars arround the world
AeroDyn UniFit flat wiper blades with several adapters to fit not only hook but also special connection technologies mainly used by german car manufacturers
Hybrid UniFit wiper blade with a ridget steal frame beneathe the aerodynamic body is designed to fit the requirements of cold weahter conditions and heavy snow on the windshield
To ensure your save journey and a scratch free windshield, wiper blades have to be replaced at regular intervals. The service interval is provided by the vehicle manufacturer and should be done on an regular basis.
Our online catalogue offers the right wiper blade for almost every vehicle.