Reliable protection against plant pollen, fine dust and harmfull gases

Soat, pollen, fine dust and NOx often disturb the journey. Asthmatics in particular appreciate a good climate in the vehicle interior. If you want to reach your destination in a relaxed manner, you can rely on Senfineco Cabin Air Filters.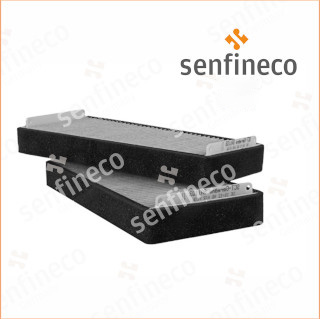 Senfineco Air filters have the following advantages:
binds alergens, mold and other unhealty particles
active carbon binds harmfull gases NOx and

odors

Functional reliability during the entire service interval
highest degree of dirt separation PM2.5
low flow resistance

Significant reduction of diesel soot

Increase your ability to concentrate and avoid headaches

Protection of the air conditioning
Pollen allergy, popularly known as hay fever, greatly affects the lives of allergy sufferers. Allergic reactions can put us in dangerous situations. Especially on the road a short sneeze attack can quickly lead to a serious accident. A high-quality cabin air filter provides relief and lets you arrive relaxed at your destination.
Detailed installation instructions help garages and motorists to change filters. Thanks to easy-to-understand instructions, the installation location is immediately found and the assembly is done in no time.
Excellent fit guarenteed
Senfineco cabin air filters are available in two versions.
Eigther as a standard high-quality PM2.5 particle filter

Or as a premium PM 2.5 filter combined with activated carbon.

The embedded activated carbon layer binds harmful gases such as nitrogen oxides, fuels or ozone in atome sized pores
The cabin filter might be exposed to cold and wet weather conditions during the year, or high humidity from the residue moisture of the air condioner. After 1-2 years filtered organic particels and high humidity within the Air-Intake System might lead to unpleasent odors. To ensure an optimal driving experience without distractions the cabin filter must be replaced at regular intervals. The service interval is provided by the vehicle manufacturer and should be done on an regular basis.

Our online catalogue offers the right cabin filter for almost every application (car, truck).